---
Golden Angel Tan, a self tanning mousse with a heavenly formula
---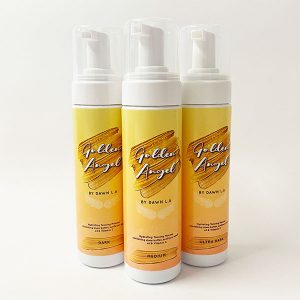 I am a professional makeup artist with over 11 years experience in the industry. I provide a wide range of services for  all occasions such as weddings, parties, photoshoots, festivals, corporate events and lots more. I trained at the prestigious LA Makeup Academy in the heart of Dublin City.
As well as offering my services to my loyal clientele for their special events, I have also worked on many photoshoots and ad campaigns as well as several corporate events such as the Miss Ireland Pageant and the Irish Maritime Festival to name a few.
In 2017 I opened my very own makeup studio in Barlow House, Narrow West Street, Drogheda where I offer makeup applications and one to one makeup lessons.
I am also a beauty, fashion & lifestyle blogger and presenter. I run several ad campaigns for local and national businesses and enterprises. I have presented many different online commercials and ad campaigns, hosted charity Lip Sync Battles and interviewed artists at Ceili Picnic during Fleadh Cheoil Na hEireann in Drogheda in 2019.
Due to the impact of Covid19 I had to temporarily close my makeup studio. However, I saw this as a chance to diversify my business and begin another exciting chapter. Thanks to lockdown I was able to focus my time and energy on my next exciting project, which resulted in the birth of my first beauty product 'Golden Angel Tan'.
Golden Angel is my own brand of luxurious self tanning products with the most heavenly formula. Containing Shea Butter, Sunflower Seed Oil and Vitamin C, Golden Angel is Vegan Friendly and Animal Cruelty Free. It's RRP is €17.50 and it is available to purchase here on my website.
I am very much looking forward to expanding my range of beauty products and I can't wait to show you all what's coming next for my brand!
Thank you all for your support!
Dawn x