IT'S CHRIIIIIIIISSSSSSTMAAAAAASSSSS!
So the festive season is upon us once again. I don't know about you lot but I can safely say that Christmas for me is definitely my favourite time of year, period!!
And here's why…
1. You can indulge in all the food you want…literally!! You know you're Irish When you ask your Mam 'Can I eat this' and she responds with 'NO, it's for Christmas Day!'. Yes, I am going to eat all the Malteaser Celebrations for breakfast, and maybe a selection box too.. Hell yes, I'll take another serving of Brussel sprouts, who's making Tayto Sambos??
2. Christmas movies.. There's no denying, it's not Christmas unless you get snuggled up on the couch with the fam and get stuck in to all the classics. 'Santa Claus', 'Miracle on 34th Street', 'The Grinch', Home Alone, Elf (how many times have you screamed Santaaaaaaa, I know him?!). Love Actually is the one for me tho, one of my favourite movies of all time! *No I'm not crying I've something in my eye…! The list is endless. Guaranteed to bring you back to your childhood.
3. Gingerbread lattes and Christmas cups make their comeback to Starbucks..need I say anymore??
4. 12 pubs.. The ultimate sesh!!! Coz let's face it, it's not silly season unless the whole squad gets together, wrapped to the ears in tinsel, crawling through every pub in your town whilst trying to convince each other 'nah I'm grand, I'll make it to 12'.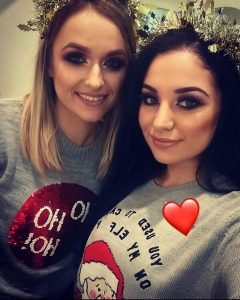 5. Christmas Jumpers..
Cheesy and all as they are, don't be a Scrooge and put on your feckin reindeer jumper. Sure doesn't it keep you warm.. Why not hold a sponsored Christmas jumper Day at work to raise money for charity. All for a good cause!
6. Fairytale Of New York.. Seriously though, is there anything more patriotic than hearing The Pogues and Kirsty Mc Coll belt out this little gem of a Christmas Eve?? The whole world claims to be Irish at Christmas as soon as this starts playing. 'Yeh Scumbag, yeh maggot……'GOLD!
7. Loved ones come home… My favourite thing about Christmas…those who are living away finally make the journey home. The emotional reunion, the tears, the extra tight hugs, the catch ups, the nights out.. Savour these moments and make the memories last forever.
8. Alcoholic Hot Chocolate.. Yes it's a thing and yes it's DIVINE!!! I take mine with a drop of Baileys. If you haven't tried it you really need to reevaluate your actions!!;)
Fellow Drogheda Heads, The Cross is where it's at, check it out. Here
9. Advent Calendars.. I don't care how old I am, if the mother doesn't buy me an advent calendar I will have a tantrum..end of! Who doesn't need an excuse to celebrate every day
of December by eating a chocolate for breakfast?! Yasssss Pleeeeeasssseeee!!
10. The giving and receiving of presents.. Sure, you're stocked up on jammies, fluffy socks and bath sets for the next year, but don't forget, Christmas is also about giving. Christmas is a tough time of year for a lot of people. Try to give to those less fortunate and those in need. Look out for those who may be lonely or vulnerable at this time of year. Remember to be in the moment and enjoy the little things this Christmas. Be grateful for those who are here to Spend Christmas with you, that's worth more than any present. They say it's not what's under the tree that matters, but more so who's around it..
Merry Christmas & Have a Happy New Year!
Xx Dawn