Hello beauties, hope you're all well! Can you believe summer is over already???
Major sad face!! 🙁
Anyways, down to business, today's blog post.. Some of you might remember a few weeks ago I went to the City North Hotel for afternoon tea with my friend Niamh. While we were there we popped into the wedding fair which was taking place in the main function room. Juliet was there doing some makeup demos and I wanted to say hi.
Well……to say I was knocked for six when I walked in would be an understatement!!
Holy moly, hand on my heart I can HONESTLY say it is one of, if not the most amazing wedding function rooms I've ever been in. Everything from the decor, the hundreds of candles and flowers, the centrepieces, the lighting, the music, the light up dance floor (yes it lights up)…it was spectacular.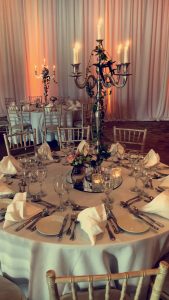 Of course I couldn't help but snapchat a wee bit of it while I was there..as you do.
Within a couple of hours the snaps came pouring in from people asking where I was. Lots of you were shocked that this gorgeous setting existed within the City North hotel, one of my snapchat followers even commented 'I thought you were in Powerscourt or somewhere!!'
Sooooooo, due to the abundance of snaps, screenshots and messages I got about the wedding ballroom, I've teamed up with the City North hotel to give you the full lowdown on everything you need to know about this beautiful wedding fair.
All you budding Brides and grooms, listen up…
Situated just outside Drogheda, the City North Hotel is renowned for its delicious food, impeccable customer service and beautiful interior. The beautiful Somerville Suites can cater for up to 350 wedding guests and with the wave of a magic wand (ie. Serious hard work and dedication) the staff at City North Hotel will transform this ballroom to give you the fairytale wedding of your dreams. Complete with candles, fairy lights, flowers and did I mention the light up dance floor??;)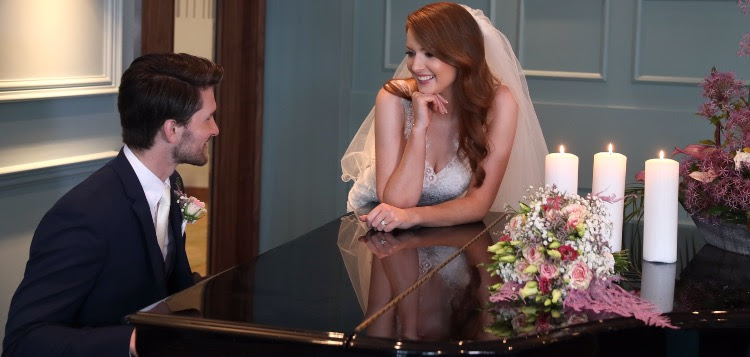 And if you're looking for extras look no further, the fabulous wedding team can put you in the right direction. Perhaps you'd like a Selfie Mirror Photo booth to capture those all important party antics or Large Lovin Letters with the initials of you and your other half for the perfect photo op, look no further, the team can help you find what you need.
And now for the BEST part……..are you ready for this??…
The City North Hotel have an Exclusive Offer for weddings booked up to the 31st of December 2017. You will receive COMPLIMENTARY room draping and up lighting worth over €2000!!!!! Yes, you read that correctly, your room draping and up lighting is absolutely free providing you book your wedding before December 31st 2017.
And judging by these pictures look how amazing it looks…so romantic right??!!
If you'd rather a much smaller, intimate affair for your wedding day, fear not, there are alternative options to suit every bridal party. A private banquet room is available to cater for more intimate wedding parties, this banquet room is even available for your civil ceremony. Again the wedding team will ensure the ultimate fairytale setting.
Now I bet you're all thinking this is too good to be true right????
Well why don't you check it out for yourself at the next upcoming wedding fair which takes place on Sunday September 24th in City North Hotel.
For more information on weddings at City North or to arrange a consultation with the wedding co ordinator click HERE
You'll also receive complimentary afternoon tea for two on the day of your viewing.
Check out this video of how your wedding at City North could look.
City North Hotel Wedding Video
Thanks so much for taking the time to read my post and if you manage to attend the wedding fair I hope you enjoy it.. Be sure to send me snaps 😉
Lots of love,
Xx Dawn