Ladies Day at Bellewstown Races… The big reveal!
Hey dolls, hope you're all keeping well.
WOWZER!!! What a few weeks it's been.. Firstly I want to say a massive thank you to each and every one of you for your lovely well wishes and support lately. As always it's HUGELY appreciated! THANK YOU so much! So, let's get down to business and get stuck into today's post.
You may have already seen on my social media accounts that I have been named as 'Brand Ambassador' for Best Dressed Lady at this years Bellewstown Races!!
To say I'm over the moon would be an understatement!! I'm hugely flattered and it's an honour to have been given such a title, especially since I'm a massive fan of the races!
I've attended the races quite a few times over the last couple of years. I particularly love Ladies Day because being the typical 'girly girl' that I am, I love any excuse to get dressed up for a fun filled day with the dolls. I was chosen as a Best Dressed finalist last year by beautiful judge Rosanna Davison and I was lucky enough to have won the title a few years previous.
This year will be a little different for me, but in a good way..a very good way! So let me fill you in on everything you need to know..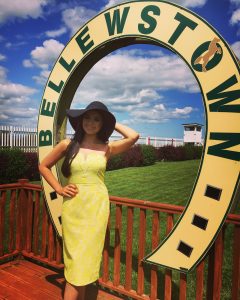 Ladies Day at Bellewstown is one of the biggest events on the racing calendar and it's the perfect opportunity to not only get dressed up but to have a fabulous day out with your girls. Ladies Day will take place at Bellewstown Racecourse on Friday July 7th *stick it in your diary*. The judge for Best Dressed Lady this year is 'Girl boss Supreme' Chanelle Mc Coy from Dragons Den! As Best Dressed Ambasador I will be assisting Chanelle on the day in choosing the overall winner of the Best Dressed Lady competition.
So now on to the exciting part….what comes with the coveted 'Best Dressed' title??  Well..
The winner of Best Dressed Lady will walk away with a €3000 shopping spree for Scotch Hall Shopping Centre in Drogheda, co Louth.. Yep, you heard me, €3000!!! Where would you even start???!!;)
Second Prize for Best Dressed Lady is a break away for two to the 5 Star Trump International Golf Links & Hotel in Doonbeg (with a Spa Treatment).
And Third prize is a fabulous €500 for Fuschia Makeup!
There will also be prizes for 'Best Dressed Man' and 'Best Dressed Couple'..better start nagging your other half to get his glad rags on! With only 4 weeks to go, I'll be keeping you up to date on everything you need to know about ladies day.. From outfit inspiration, fancy fascinators and flawless makeup, my blog will be your go to guide for Ladies Day!
Tickets are on sale now! Your 'Dress to impress package' especially for Ladies Day includes entry to the festival & the exclusive 'Dress to impress' Marquee, Prosecco on arrival, live music to dance the night away, canopies and your all important race card. This package costs just €50, click HERE to book your tickets. I can promise you, this will be the ULTIMATE girls day out! Do any of you remember my Snapchats from last year when myself and the girls were at Bellewstown?? Absolute Lols !!
Round up the squad, get your glad rags on and put your best foot forward, you're in for an UNFORGETTABLE day!:)
Bellewstown Races has always been one of my favourite days of the whole year and this year will be no exception. Looking forward to seeing you on the Hill!
Xx Dawn