Hello beauties, hope you're all well.. Can you believe it's only 2 weeks to go until the Bellewstown races. Eeeeeekkkk!! So exciting!!
So, I've already given you the low down on my role as brand ambassador for Best dressed lady, and I've shared some of my outfit inspirations with you all on my Facebook page. But, probably the most important part of Ladies Day, which I'm about to dive into now, is that all important head piece.. Whether it's the fanciest fascinator, over the top hat or a funky flower crown, whatever you choose is what's going to get the judges head turning.
If you're new to Ladies Day and aren't really sure where to go for the hottest head gear, don't worry, I've got you covered.. Here are my top 5 go to Milliners & stores to check out:
1. Sophie Hunter Millinery- Renowned milliner Sophie is one of the most sought after designers on the Ladies Day scene. Her one of a kind pieces leave little to the imagination, this woman can create anything, and I mean anything! A local lady herself, her designs are a regular at Ascot, Galway, Punchestown, The Curragh and of course, Bellewstown. Celebs such as Rosanna Davison and Sybil Mulcahy have sported her pieces. To see more click HERE
2. Accesorize – The gorgeous high street haven is always favoured for its cute and classic pieces if you have a special occasion, and when it comes to the races, Accesorize doesn't disappoint. They boast a wide range of fascinators and oversized hats, many of which you can customise yourself. Their store in Scotch Hall Shopping Centre currently has a 30% off sale on selected hats & fascinators…..HURRY!!!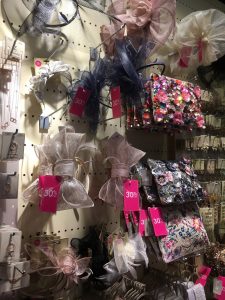 *Fun Fact: My last 2 hats I wore to Ladies Days were purchased in Accesorize in Scotch Hall.. One of them even won me the title of Best Dressed Lady!
3. Jennifer Wrynne – No stranger to the Ladies Day scene, Jennifer is not only a well known designer but a frequent winner of Ladies Day herself. Her styles are the definition of elegance and class. Mixing designer with high street, if there's anyone who knows how to dress for Ladies Day it's Miss Wrynne. I recently visited her stunning boutique in Powerscourt Town Centre and it honestly left me speechless!! AMAZING!! Well worth the trip to check out not only her head pieces but her gorgeous outfits too. You won't be disappointed. See more HERE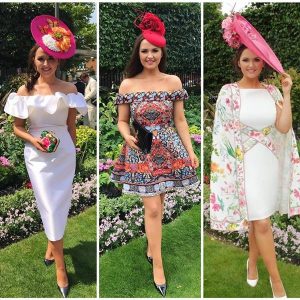 4. Suzanne Ryan Millinery – Another huge name among ladies day participants is the fabulous Suzanne Ryan. For those of you who want to perhaps do something a little different, why not unleash your inner princess and don an extravagant crown for 'Best Dressed'. Yes it has been done before, and if there's one lady who knows how to design them it's Suzanne. The gorgeous Roz Purcell was a recent judge at ladies Day these past few months, she really set the royalty tone when she donned a beautiful Rose Gold crown from Suzanne Ryan's collection. How beautiful!! See more HERE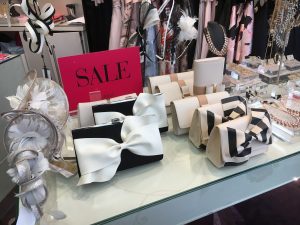 5.Coast,Scotch Hall Shopping Centre – The high street store notorious for elegant occasion wear doesn't disappoint when it comes to their jazzy head pieces. Whether you're all a out making a statement or you prefer to keep it more reserved, Coast will cater to you. Classy yet affordable, they get it right every time.. You may even find that all important outfit while you're there…;)
So whether you're choosing high street or designer for the big day on July 7th, I hope this post was helpful to you in some way. If you haven't gotten your Ladies Day tickets yet don't worry, click HERE to book them.
Also, have you checked out my ticket giveaway on my Facebook page Dawn L.A blog???? Get on it guys!!!!!
Can't wait to see you on the hill…;)
Kisses,
Xx Dawn